However, the spring weather has been a little indecisive here in Maryland and while we have had some really hot days this month, the past few days got chilly again. So today when my daughter decided that she wanted to play in her water table in the middle of a spring rain storm, I thought we could bring the water play inside! I used a shallow clear tub that I had handy but a large plastic bowl could work well too. We laid our tub-o-water on a beach towel and used some bath toys and kitchen utensils to play with. G had a blast splashing and "mixing soup". It was a solid 30 minutes of fun and about 30 seconds of prep -- YES!
While my kitchen floor did end up getting a bit wet (despite the towel), I just used it as opportunity to give it a quick mop. It was some easy, screen-free rainy day fun!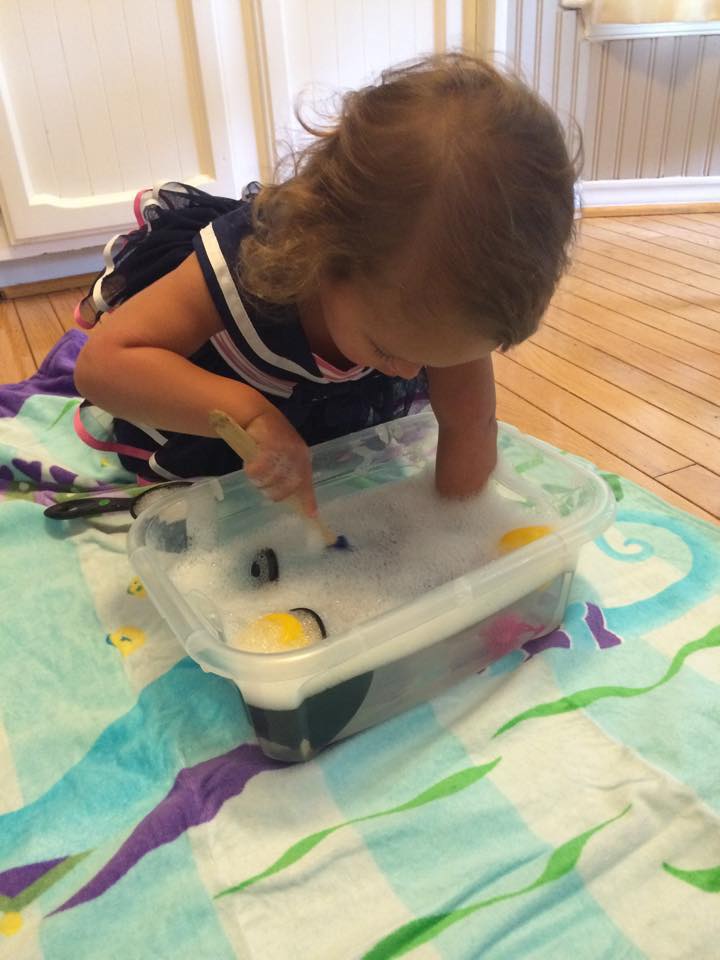 Other indoor water play ideas:
Add some letters and a ladle for alphabet soup!
Use different size scoops/measuring cups to explore capacity of different sized containers.
Add funnels or stacking cups with holes to make "rain" and "waterfalls".
Find a variety of objects to learn about sink/float (rock, packing peanuts, pencil, toy boat, marble, rubber duck, etc.) Have your child predict if it will sink or float and then test each object.
Add some bubble bath or dish soap for BUBBLES! Bubbles are always a hit.